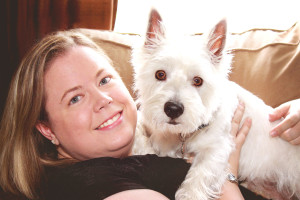 Rachel Phelps, America's Pet Parent®, is a sought-after pet industry influencer best known for her development of the nationally recognized dog blog PrestonSpeaks.com. She is a certified dog trainer, a professional member of the Dog Writers Association of America, and the Cat Writers Association. She is a regular speaker on pet issues and the use of social media and has had articles published in both print and web magazines such as American Dog, Dogster, and Petcha.  She also oversees the social media endeavors, website content, design, and general PR for several organizations.
Rachel is very involved in the animal welfare community. She serves on the board of directors of WestieMed and additionally serves as their national Marketing Director. She also serves on the board of Westie Rescue Indiana and acts as an area coordinator and foster home. Previously, she served on the board of her local humane society.
Rachel is a award winning Toastmaster and regularly gives speeches and presentations at conferences.  Some of her speaking engagements have included BarkWorld Social Media Conference, BlogPaws Pet Blogging Conference, St. Louis Show Me the Blog conference, and the Cat Writers Association Annual Conference.  She is also a regular main stage speaker on "Saving Money on Your Pet Care" and acts as the master of ceremonies at many of the Amazing Pet Expos consumer shows held it cities across the United States.
Rachel is also a adjunct college professor leading classes on computer information systems and social media marketing.  She has a Masters of Business Administration (MBA), a Masters of Public Administration (MPA), and a Bachelor of Science degree in Computer Science.
Rachel holds membership in the following organizations: